Model TB1 Expander Box is a 1U (1.75 inch) tall enclosure for Paralan's family of SCSI Bus Expanders is designed to be mounted in a 19 inch rack. Designed for the needs of telecommunications, it is powered by 48VDC.

Model TB1 includes positions for mounting and powering one or two SCSI expanders, which may be the same or may have a different type of expander in each position. (See rear view dimensional drawing below for positions of each SCSI expander.) All I/O connectors and the connector for power are on one side of the box. Each expander has a Green and Yellow "Power" and an "Activity" LED. The TB1 accepts a 48VDC input on a keyed two pin locking connector. The power supply also has reverse polarity protection. The unit is NEBS compliant.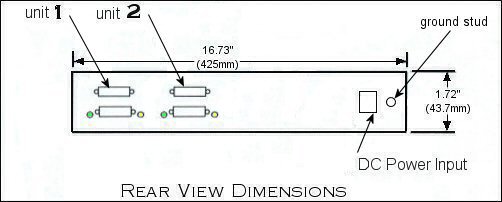 (The height of this drawing is not proportional to its width)
PDF version of this data sheet.
Available Expanders:
For complete information on these expanders, see the appropriate Web page (click on link below). Other Paralan expanders are available on special order. See diagram for (rear view) connector location.
Other Paralan expanders are available on special order.
Environmental:


The Paralan SCSI Expander Box is designed to operate in an office environment with limited capacity for heating and air conditioning. The environmental limits are:


Temperature Range:
Operating: 0 to +50 C (32 to 122°F)
Storage: -25 to +75C (-13 to 167°F)
Humidity Range:
Operating: 5 to 90% RH
Storage: 5 to 95% non-condensing

Construction:

All Metal

Connectors:

SCSI: 68-pin High-Density female Alt 3, "P" Connector
Power: Wago 231-632/019-000 2 Pin Male
Ground Stud (19mm) 10-32 x 3/4 inch

Power:

Maximum Power Requirements: 40 Watts
36 - 72 VDC

Dimensions:

16.73 x 10.0 x 1.72 (425 x 254 x 43.7 mm)
Vertical Rack Space 1U (1.75 inches, 44.5 mm)

Weight:

11 lbs (5 kg)
18 lbs (8.2 kg) shipping

Example 1:



Rackmount Enclosure with MH33A Wide LVD/MSE to HVD Converter in both positions
Model No. TB1-AA-R
Example 2:



Rackmount Enclosure with SIR-D17C Wide HVD to HVD RegeneratoR™ in position 1, no expander in position 2
Model No. TB1-D0-R
Notes:



1. The TB1 comes assembled, wired and tested with the selected boards installed.