Using a good quality SCSI cable is the key to building reliable SCSI subsystems. Over the years that Paralan has provided SCSI bus enhancements more than 90% of the problems with a new installation of external SCSI devices have been associated with the SCSI cables used in the installation. With today's increased SCSI data rates, cabling becomes an even more critical issue.
When there is a problem with the cable, the systems vary greatly. The system may not operate at all, or there may be intermittent SCSI communication failures. In many cases the symptoms are initially thought to be due to the devices on the SCSI bus or the software drivers, resulting in excessive system installation delays and costs.
SCSI is ideally suited for many applications across the industry, beginning with RAID (Redundant Array of Independent Disks) storage, Internet and enterprise servers, workstations and application-specific computing. Desktop connectivity is vitally important in today's Internet economy and SCSI is meeting the challenge. It is the most cost-effective high-end disk drive controller interface on the market today.
The cheapest external cables have only 25 wires connected. These cables don't work with differential SCSI at all because differential requires a pair of wires for each signal. They also exhibit problems with high-speed, single-ended SCSI because they carry only a few ground lines.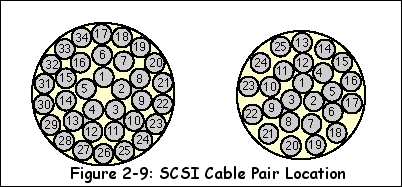 Marginally better are cables that use 19 twisted wire pairs. They provide a pair of wires for each signal, one line for terminator power and one common ground line. They definitely work better for single-ended SCSI, but they still don't satisfy the specification. They won't work properly for differential SCSI because they are missing the DIFFSENS and some ground lines. The DIFFSENS line will play an important role in LVD/SE systems, because it will be used by the drivers to sense if they are operating in a single-ended or in a LVD environment.
The only acceptable SCSI cable uses 25 twisted pairs of conductors for narrow SCSI and 34 twisted pairs for wide SCSI. These twisted pair cables must be designed to meet the impedance requirements of the SCSI specifications. All cable pairs must be carefully wired to the connector. On single-ended SCSI a signal line must be paired with a ground line and on differential SCSI the plus and minus lines of each signal must be on one cable pair. Finally, the SCSI specification requires that certain signals are located in the core of the cable. Using the 25 pair cable locations of Figure 2.9 (above), the REQ and ACK signal should be on pairs 1 and 2, the control signals on pairs 3 to 12 and the data lines on pairs 13 to 25. The 34 pair cables should be similarly configured. Excerpt taken from "Making SCSI Work" written by Paralan Staff.
For more detailed information on SCSI cable pinouts, see:

For more detailed information on SCSI cabling including connector types, see:

For an overview of SCSI cables and cabling, see:
And for information on how to verify SCSI cable performance, see:
And for information on how to verify SCSI cable performance, see: